Apptology's ReadyBuilt App designed for retail and grocery is a FREE download for customers and a perfect way to stay in touch with and market to them by sending out text alerts about events, promotions and merchandise discounts with GPS coupons. Have customers view featured products on the image gallery, and include detailed information about the products and use the shopping cart integrated in the app, and share through social media sites.
App Functions:
Text alerts for announcing specials
Photo gallery of merchandise
Product information and links
GPS coupons for specials & discounts
E-Commerce capability with Shopping Cart
QR code scanner and coupon generator
Social media integration for sharing & referrals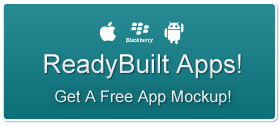 Testimonial
"Apptology contacted us about doing a restaurant app for one of our restaurants. We were very skeptical, as we have been solicited by many firms to produce an app. The common theme, it was going to be very expensive. Apptology not only made it affordable, but extremely easy to set up. We have full control of our mobile site which makes it very convenient for us to makes changes to our app. We love having this new tool to interact with our guests! We are just getting it off the ground, but are thrilled with the response from our guests."
Thank you! Sincerely,
Karoline Platt, Owner, Sienna Restaurant