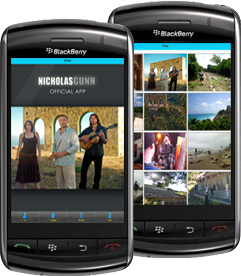 THE OFFICIAL NICHOLAS GUNN APP
This App keeps you one tap away from the latest in the world of Nicholas Gunn! This is your front row pass! This App puts the latest news, videos, events, and more straight into your finger tips in a beautiful, interactive, and personal experience.

KEY FEATURES
Send personal messages, photos, and voice messages direct to Nicholas
Chat with other fans on the fan wall, or via Facebook and Twitter
Like and comment on videos and photos
Check out up-to-date photos galleries
Share the app, news, photos, and videos via Twitter, Facebook, and Email Nicholas Gunn is a Top-Ten Billboard charting musician. With a reputation as being one of the world's best selling flutists, he is in the upper echelon of contemporary instrumentalists. A classically trained musician, he has released over fourteen solo projects, selling over two million copies world wide making him a double platinum selling artist.
Testimonial
---

"This app is a great communication vehicle for members and is very convenient to use. It is also a great promotional tool to let our fans know when and where we are playing and best of all, we can sell our music through the app—awesome! "
Arina Bureeva, Guitarist, Member of
Sacramento Guitar Society