Image Source: Gov Loop
Augment Reality (AR) has received a lot of attention with the success of Pokemon Go. AR aims to extract animations and place them into real-world environments. It has essentially merged the gap between reality and computer generated simulations by manipulating what the user experiences via sight, sound, smell and touch. In brief, AR integrates animations into your reality so the general setting looks the same but with some few added details. Although AR is related to Virtual Reality (VR), the two technologies are not synonymous. VR produces computer generated simulations of an environment that users can experience by wearing a helmet or gloves with built-in sensors. Read my previous blog on VR for more insight. AR on the other hand allows users to experience the technology simply by glancing into the screen of an Android, iPhone or other mobile device such as a tablet. AR is altering the world as we know it or at least changing the way people experience the world. The Pokémon explosion is probably the most well-known platform that has utilized AR for gaming. It may sound silly to some, but the game is highly addictive. To understand specific reasons behind this obsession, read my previous blog to learn why Pokémon Go has become so successful. To gain a better understanding of how app developers have taken advantage of this innovative technology, we will look at a few providers who have successfully used AR for non-gaming purposes.
Health and Education with AR: Anatomy 4D
This app is a cloud-based, interactive examining simulation resource for academic uses. It offers users with online access to anatomy data while analyzing detailed bone structures and organ systems. This can be done by downloading specialized research templates or by enabling structure projection and layer blending. Anatomy 4D allows project structures to synch with skin to analyze coordination and position. Users can also adequately balance the layers to reveal discrete anatomic implications. You can also hover over objects or images to reveal detailed information via label view. It is these perspectives that produce enhanced learning retention by granting students an in-depth look at any part of the body they are studying. This also is useful for medical instructors who can organize image and structure curriculums along with managing lessons and tests.
Image Source: mzstatic
Shopping with AR: Pair
This app enables users to place animated images of furniture into their space so they can perfectly visualize how it would look in real life.  Pair's tag line is "The New Way to Try Before you Buy with Augmented Reality." Indeed the app grants prospects an easier method to experience the end result of their interior design project. For example, let's say you just purchased your first home and the space is completely empty. You would be able to walk room to room while viewing how you would want it to look through your mobile device. You'd be able to put furniture, pictures and other items in designated areas of the space, swap them out, switch them around etc. Cool right? Still, Pair has a much more expansive purpose than simply furniture and can enhance scientific, educational and commercial projects by giving spectators a 3D demonstration of what a particular vision would look like. I was able to see Pair in action during 500 Startups Batch 18 Demo Day and it's pretty impressive.
Graphic Source: Google Plus
Mechanics and Construction with AR: AMA XpertEye
This month, AMA XpertEye will supply workers of the Keolis Commuter Services (KCS) in Massachusetts with AR smart glasses to improve communication and boost efficiency on their railway transportation system. These specialized glasses stream the video being recorded tethered to a mobile device. The remote supervisor monitors the recording over a laptop. From there, both parties can "exchange written messages and take screenshots of the video, annotate the images, and send them to each other." Ultimately, their goal is to speed up delays caused from train repairs and other technical difficulties that may get them off track. Additionally, Keolis is considering the technology for training purposes so newcomers can literally see through the eyes of their seasoned field workers.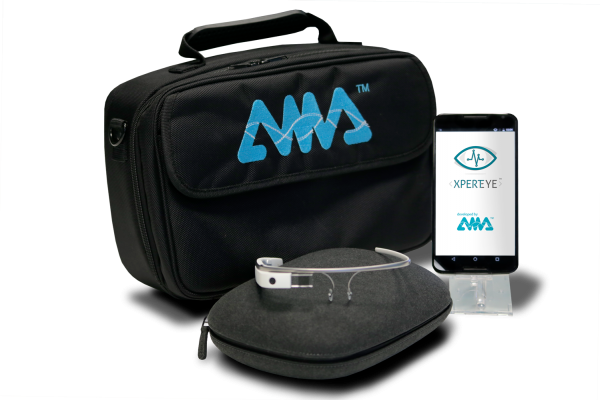 Image Source: AMA XpertEye
Sports and Play with AR: RideOn Vision
This cutting edge technology created by Heads up Display is seen with their RideOn Ski Goggles. These one of a kind specs allow users to access heightened assistance while skiing or snowboarding the slopes. Map navigation systems can guide users easily through the rough and diverse terrain better than ever before. You can also communicate with other riders, see their whereabouts and even text them hands-free. In addition, the goggles allow riders to capture their surroundings and share them online for others to see. The company is also developing games that can be played directly through these exclusive lenses. And of course, users can jam to their own personalized soundtrack as they ride, jump, flip and recover from a wipe out.  Although the technology is geared for the snow, it's useful for motorcyclists, ATV riders and other similar vehicles.

Image Source: Pintrest
As technology progresses, it will be interesting to see what other AR use cases are developed.
By Rich Foreman, CEO / Apptology and Director of Startup Grind Sacramento. Rich co-authored the book Tap into the Mobile Economy and his blog has been listed in the Top 20 Mobile Marketing Blogs of 2014.  Follow Rich on Twitter at@ApptologyCEO or attend a Startup Grind Sacramento Event.
(Visited 94 times, 1 visits today)