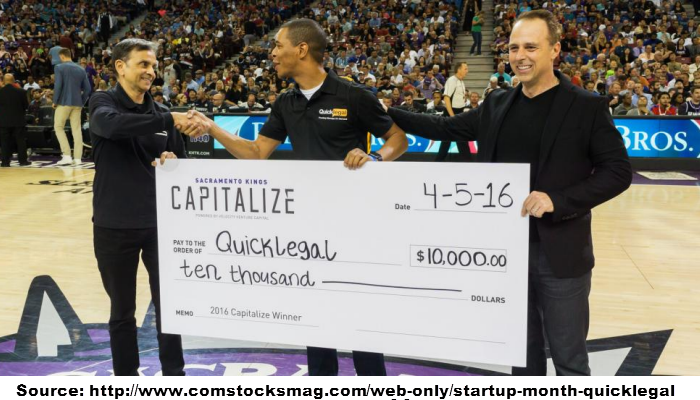 The Sacramento Kings Startup Contest
On Leap Day 2016, the Sacramento Kings in conjunction with Velocity VC announced a first of its kind startup contest called Capitalize.  They invited all startups within a 75 mile radius of Sacramento to participate.  89 companies applied to be part of the contest.  A panel of judges painstakingly went through the startup applications and narrowed them down to 32 companies.
On March 23rd, the 32 companies participated in a pitch event that narrowed down to four finalists:
The four finalists pitched at the Sacramento Kings game on April 5th  with the winner determined by the fans using Twitter.  In the end, the Sacramento Kings Fan choose QuickLegal.  QuickLegal won 1st and a prize of $10,000.  All the other finalists received $5,000.
The Kings Capitalize Contest was the brain child of Kings Intern Jaime Rodota.  He pitched the idea to upper management of a contest that would help get the Kings engaged with the Sacramento Startup community and enlisted the help of  Velocity VC to co-sponsor the event.
Kings Capitalize Contest has help bring the spotlight to the Sacramento startup community with the Kings saying that they will make this an annual event.
By Rich Foreman, CEO / Apptology and Director of Startup Grind Sacramento. Rich co-authored the book Tap into the Mobile Economy and his blog has been listed in the Top 20 Mobile Marketing Blogs of 2014.  Follow Rich on Twitter at@ApptologyCEO or attend a Startup Grind Sacramento Event.
(Visited 55 times, 1 visits today)