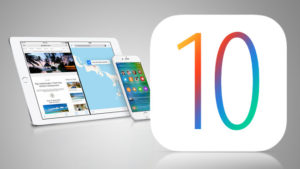 Apple will be pushing out iOS 10 this Tuesday, September 13, 2016.  As usual, Apple is declaring that this will be the biggest update ever…but I think they say that about every release.  With that said, there a few interesting updates on iOS 10 from a developer's perspective.
Apple's iMessage as a Platform
The focus on iOS 10 seems to be Apple's iMessage App which according to Apple is the most used app on the iPhone.  Apple is actually creating an App Store just for the iMessage App which essentially makes it a platform.  Apple has already released 4 iMessages app ahead of the release of iOS 10.   I see this as play to make iMessage more competitive against WhatsApp and Facebook messenger.  It will be interesting what applications that third party developers will come up with and the different use cases that will be developed.
Siri Open to Developers
As a developer, when of the interesting a new feature is that Apple is allowing Siri to be used in the development of apps.  We've already seen a couple of request for apps to be developed that will leverage Siri's voice recognition software.
Ability to Remove Apple Built in Apps
The surprising announcement with iOS 10 is that Apple is allowing the user to delete built in apps that come with the iPhone including iBooks, Maps, and FaceTime.  The full list of built in apps can be found here.   This is interesting for developers because if they have developed an app that competes with one of Apple's built in apps, the user has the ability to delete Apple's own competing app.  I've looked over the iOS 10 developer's documentation and what it doesn't state is if you can make a competing app the default function.  For example, if delete Apple's Map App, and tap on directions in Yelp, will it launch Waze?
3D Touch
Apple launched 3D Touch in iOS 9 which works with iPhone 6s and above.  With iOS 10, Apple is allowing 3D Touch support for third party applications.
In closing, I can't really say if this the hype from Apple that this is the biggest release ever, but from a developer's standpoint, it's pretty interesting and gives us more tools to be innovative.
By Rich Foreman, CEO / Apptology and Director of Startup Grind Sacramento. Rich co-authored the book Tap into the Mobile Economy and his blog has been listed in the Top 20 Mobile Marketing Blogs of 2014.  Follow Rich on Twitter at@ApptologyCEO or attend a Startup Grind Sacramento Event.