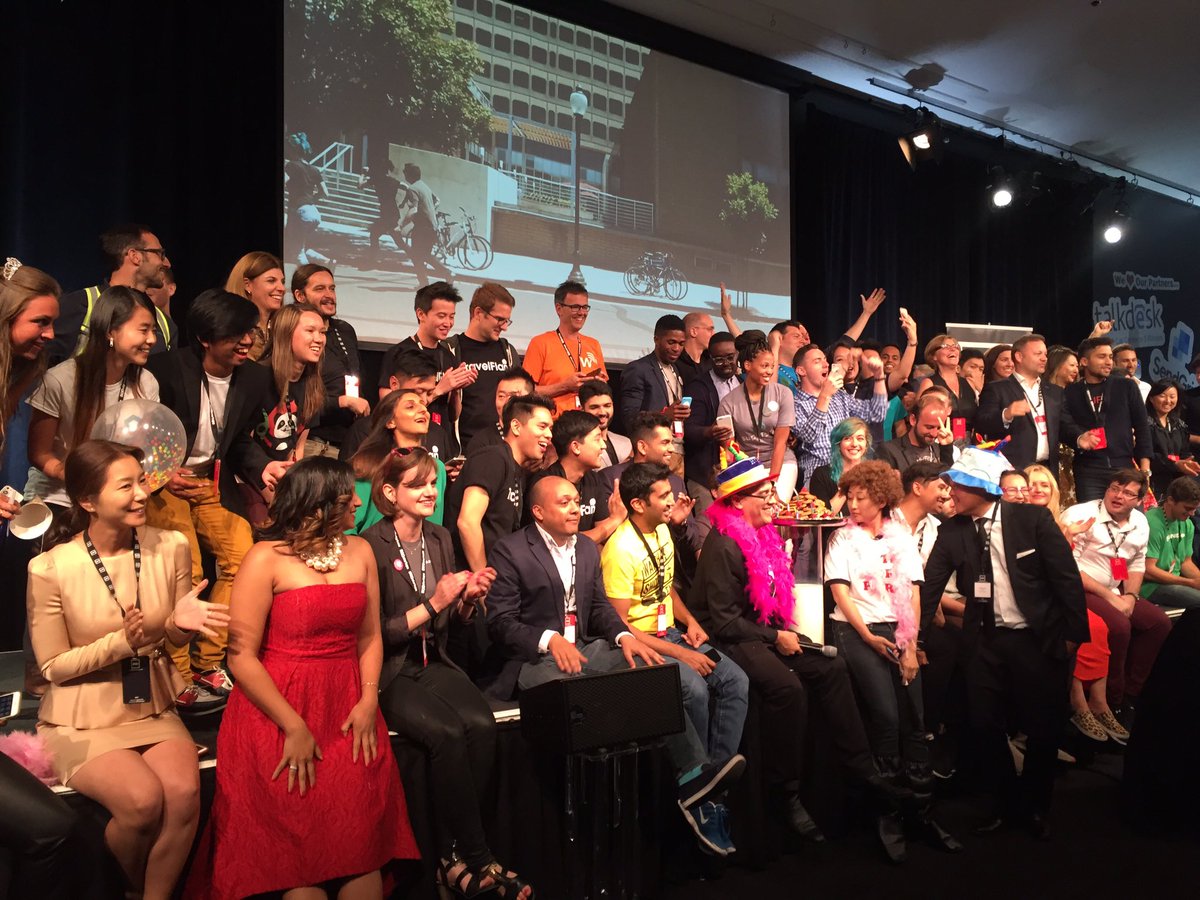 500 Startups held their Demo Day for Batch 17 at the Computer History Museum in Mountain View, California.  Demo Day serves as the graduation for the Batch 17 class of 42 companies.    I've been to many Demo Days at other accelerators and 500 Startups is the most fun and festive.  The theme for Batch 17's Demo Day was Beauty and the Geek (many of the startups fit in the categories of beauty or B2B).  500 Startups Co-Founder, Christine Tsai, kicked it off by doing a dance dressed up Napoleon Dynamite (these guys know how to party).  Not to be out done, 500 Startups Co-Founder, Dave McClure wore a rainbow colored unicorn wig as he spoke to the crowd. You can view Demo Day in its entirety here.    With that said, I've highlighted 8 startups that stood out in my mind in this article.
Startup Best at Catching My Attention
As I parked my car, I was approached by the Fuel Panda team that offered to fill my car up for $1.99 while my car was parked.  How could I say no?  Their model is to offer a subscription service where they will have fuel trucks that will fill up your gas tank while your car is parked at work.
Startup with Coolest Technology
Pair3D had the coolest technology.  They build 3D models of furniture and have an app that allows the user to see what the furniture could look like in their home and office by using augmented reality on their smartphone or tablet.    You can get a better sense of what they do in this video.
Startup with a service that I would buy for my business
There were several B2B startups but the startup that had a service that I would probably buy is InDinero.  InDinero has a service that consists of accounting software supported by book keepers and CPAs.  As I was speaking to them at their demo table, I found that their solution addresses my pain points as a startup.  (I actually asked them to follow up with me).
Startup that has best potential for being a Unicorn
Simless has created a product that replaces SIM cards with software.    Honestly, I don't know the advantages or disadvantages this offers but there are a lot of cell phones (7 billion plus) out there.  If they can execute and capture some of that market, I can see the potential of Simless becoming a Unicorn (with a valuation of over a billion).
Startup with weirdest product line
I took a double take as COIEO CEO, Jae Rhim Lee, dressed in a black hooded burial suit (made from mushrooms)  describes her company's green funeral product line.   Definitely weird in my book.   However, with death and taxes being the few certainties in life, they might be on to something.
Startup with the best SWAG
Baby Mori touts itself as the world's softest baby essentials.  They also had the best SWAG at Demo Day.  I shamelessly snag a gift the last boxed baby blanket (which was indeed very soft) for my newly born nephew.
Startup with best solution for the Bay Area housing Crunch
The biggest display at demo day was from Montainer Homes.  On display in the parking lot was one of the their affordable homes made from recycled storage containers.  They are currently targeting Bay Area home owners that want to add a second house on their property (and rent it out on AirBnB).
Startup with a product that I would buy for my kids
Jewelbots makes a smart programmable bracelet designed for kids between 7 and 14.  It's something that I see my daughter using and best of all it teaches the basics of programing.  I'm actually eying this for my daughter as a Christmas gift.
How well the Batch 17 companies do remains to be seen.  500 Startups does have an excellent track record; producing 3 Unicorn companies (valuation over 1 B), 37 Centaurs (valuation between $100 – 999 M), and over 300 ponies (valuation between $10 – 99 M).  Coming from such an amazing pedigree, I have to say the future for the Batch 17 companies are bright.
If I piqued your interest in 500 Startups, they are currently looking for applicants for Batch 19.   Good candidates should have:
Balanced Team
Product Launched
Traction with Good Metrics
If your startup is interested in applying for Batch 19, you can do so here.  Good luck!
(Visited 72 times, 1 visits today)